Brace, New Yorkers: There's a very real possibility that Amazon will bring its second North American headquarters (or HQ2) to New York City. The New York Times reports that the tech giant is close to making a deal to plop the new, split-up version of HQ2 in two different locations: Crystal City in Arlington, Virginia, and Long Island City in Queens.
LIC was one of four New York City neighborhoods pitched by city and state officials as a possible HQ2 location, and according to the Times, "the state had offered potentially hundreds of millions of dollars in subsidies" to get Amazon to the city. (Let us not forget Gov. Andrew Cuomo's offers to rename both Newtown Creek and himself for the company.)
The city's bid cited LIC's "13 million square feet of first-class real estate," along with its proximity to airports, transit lines, and cultural institutions as selling points. In January, Amazon announced that New York City was one of 20 finalists for its new headquarters; just this week, rumors began circulating that the city was among the final-final contenders.
But with these rumors comes several questions: Where will 25,000 Amazon employees live? Where would Amazon build a 500,000-square-foot headquarters? And does this mean the BQX will become a reality? Read on for our attempts to answer these, and more.
Where will HQ2 go?
Long Island City has seen a massive residential real estate boom in recent years, with more than 12,000 apartments added to the neighborhood's housing stock between 2010 and 2016. But there's also a good amount of office space spread out across the neighborhood in converted warehouses and new buildings (such as Tishman Speyer's the Jacx, a 1.2 million-square-foot tower on Jackson Avenue), and in-the-pipeline development projects.
Some sites are currently a question mark, such as One Court Square, the home of Citigroup (and the tallest building in the borough). When the banking conglomerate downsizes in 2020, it'll leave about 1 million square feet of space—through the skyscraper, built in 1990, might be out of date for Amazon's current needs.
And then there's Sunnyside Yards: Earlier this year, the city and Amtrak announced that Vishaan Chakrabarti's Practice for Architecture and Urbanism would take the lead on formulating a master plan for the long-dormant site. Decking over the rail yard could create ample space for new buildings, parks, and housing, though it's unlikely that it would be achieved within the timeframe that Amazon sought from its HQ2 cities. (The company reportedly wants to move on this by next year.)
Where will its 25,000 employees live?
See the aforementioned residential real estate boom; there's no shortage of new rentals and condos in Long Island City, with dozens more in the pipeline.
On the waterfront, two massive projects—one developed by Plaxall Realty, and the other by TF Cornerstone—would bring around 6,000 apartments, with a chunk of those set aside at below-market rate, to the neighborhood. (Both need to get the requisite rezonings to move forward.) The second phase of the Hunter's Point South megaproject, which will have 900 permanently affordable apartments, is now back on track.
Further inland, other huge developments are either in the works or nearing completion, including Tishman Speyer's Jackson Park, which has 1,800 apartments; Jerry Wolkoff's 5 Pointz-replacing rentals, with more than 1,100 apartments; and Simon Baron's ALTA LIC, a rental that also offers co-living apartments, which recently opened with nearly 500 units. And that's just the tip of the iceberg.
It's also worth noting that there's a lot of new housing coming to the Brooklyn waterfront, just a hop, skip, and a jump from LIC—between the Domino Sugar megaproject, Greenpoint Landing, and other new developments.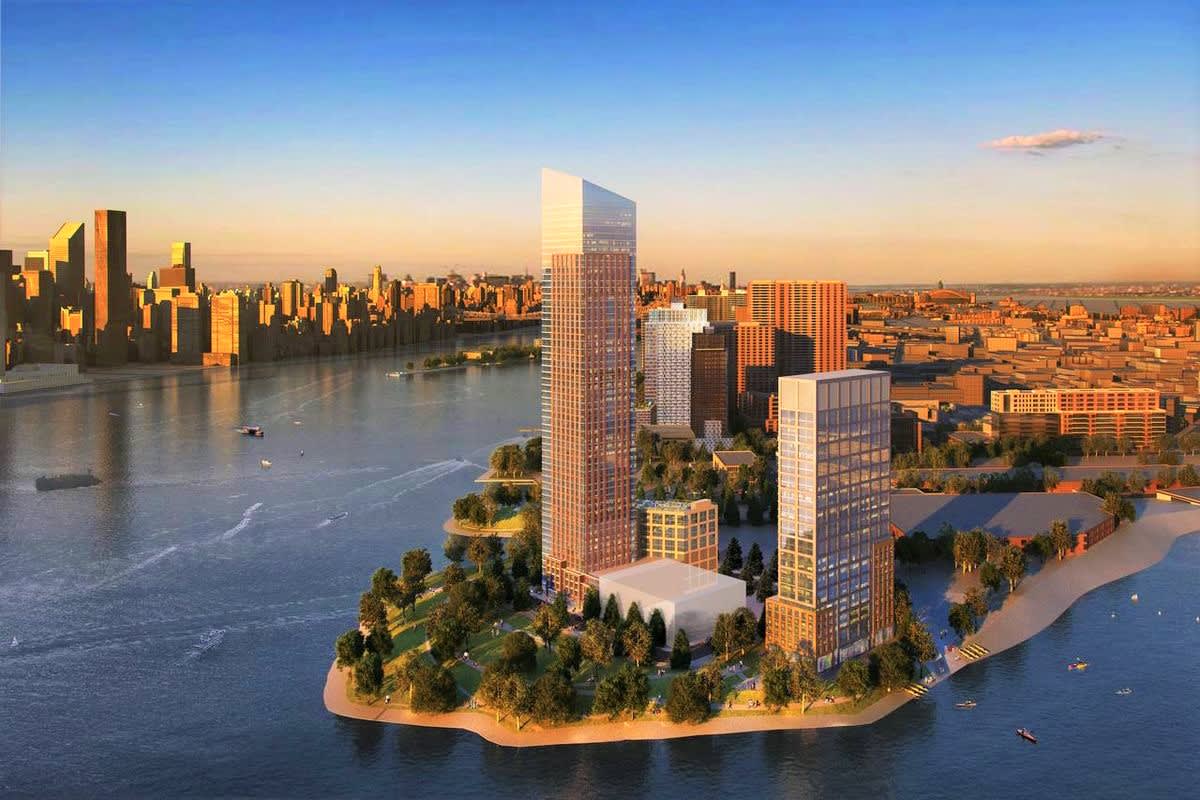 How will this affect housing?
All signs point to real estate prices going up. In Seattle, Amazon "makes up a disproportionate share of the city's growth," according to the Seattle Times, and is one of the driving forces behind the city's rapid population growth—and its rising housing costs, which have doubled since 2012.
Long Island City is already the priciest neighborhood in Queens: The median rent in the borough's northwestern section, which includes LIC, is just under $3,000/month, according to the latest Douglas Elliman market report; the median price for a condo, meanwhile, is just over $900,000. And according to Amazon, the average HQ2 employee will likely make at least $100,000/year, which could help push prices up even further. Grant Long, a senior economist for StreetEasy, says that housing prices have already risen by 5 percent in Queens this year."
Homes in less-dense areas adjacent to Long Island City—such as Sunnyside, Astoria, and Greenpoint—are likely to see some of the largest upticks in demand in the long run, should the reports prove true," Long explains.
And even with the reduced size of HQ2, real estate speculators may still flood the area and cash in on what potential development sites remain.
What about transportation?
Long Island City is served by a few subway lines, with only one—the 7—providing a link to major Manhattan hubs like Grand Central-42nd Street or Times Square. And service on the 7, as any regular commuter will tell you, is often packed during rush hour—or, as TransitCenter's Hayley Richardson put it to Curbed recently, the line is "hardly equipped to handle its current ridership load." Add to that 25,000 new workers—along with thousands of riders at its western terminus at Hudson Yards—and you could have one hell of a transit nightmare.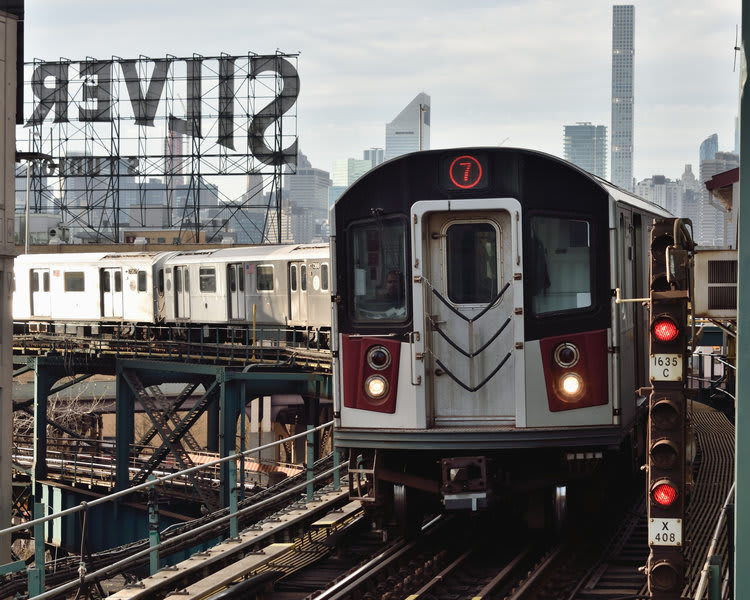 Some relief may be coming with the modernization of the 7's signals, a project that has been ongoing (and delayed) for several years. But even that may not be enough—as we've previously reported, "a CBTC-equipped 7 line will only be able to run two additional trains per hour at peak periods, for an additional capacity of roughly 2,500 people." (There is the ferry, at least?)
HQ2's arrival could also renew momentum for the Brooklyn Queens Connector, the developer-friendly streetcar that would provide a direct link between those two boroughs along the East River waterfront. The BQX route has three stops that are in or close to Long Island City: one in Greenpoint near the Pulaski Bridge; one closer to Hunter's Point South Park; and one near the Queensbridge Houses on the neighborhood's northern end.
"Amazon's move to LIC would clearly be a boon to the city's economy—but the campus would only reach its full potential with the BQX," Jessica Schumer, the executive director of the Friends of the BQX, said in a statement.
How will this affect Long Island City itself?
It's too early to say, of course—Amazon hasn't even confirmed that these rumors are true—but there are a few factors worth noting when thinking about HQ2's impact on the booming Queens neighborhood.
The de Blasio administration recently announced a $180 million investment strategy for Long Island City—it was almost suspiciously well-timed—with the goal of "address[ing] the needs of today while preparing for a more sustainable future," according to Mayor Bill de Blasio. The plan includes constructing a new school near Court Square, fixing the neighborhood's sewer system, adding resiliency measures, and park upgrades.
And even with the fancy new high-rises and the new amenities the city used to lure Amazon to LIC, it's still a neighborhood where the median income is less than $60,000/year. The neighborhood is also home to the Queensbridge Houses, the largest public housing complex in the country. A downsized HQ2 would still have a huge, hard-to-predict impact on an area that's already working hard to keep up with its massive growth."
HQ2 has to work for Queens, not just Amazon," City Councilmember Jimmy Van Bramer said in a statement to Curbed. "We already have an infrastructure deficit in LIC. We must ask how such a complex would impact the people who live in the surrounding neighborhoods. This isn't a done deal. The local community must be heard here."