One of the most exciting aspects of New York apartment hunting is the sheer volume of units you can look at. This week we explore some of the discounts we are seeing out there right now and the opportunity that awaits the prudent shopper. Take a look at some of these listings that were just marked down in the past 14 days. Ranging from $500,000 to $39,000,000…
After the unprecedented run up in 2021 of transactions and prices in New York City, prices are starting to correct back down. Recently we are seeing contracts signed at anywhere between 5% and 20% below the asking price in many cases. These are the kinds of markets that sidelined buyers should be particularly keen to monitor so that when an opportunity arises, they are ready to act. Like most things in life when it comes to "timing the market" you don't know where the absolute top or bottom is in a cycle. What history has proven time and again is that, over time, New York real estate goes up. Market pullbacks of 10-20% are fairly imperceptible when viewed in a long-term context. Yet, we tend to focus on the short term which is inherently more volatile and can lose sight of the longer-term picture.
CLICK HERE TO SEE MANHATTAN DISCOUNTS
Regarding real estate, this is not all that surprising in light of the Fed's interest rate hikes over the past 6 months. What was unprecedented was the speed and magnitude of the increases. There is no historical basis for rates doubling in such a short period of time as seen here (link).
In fact, it happened so quickly that it has put the market into a state of confusion. The high demand created from buyers trying to lock in a 3% mortgage in March has given way to seller's seeing interest plummet on their offerings. For those sellers who do not have that urgency to sell, they have been letting their units sit or have pulled them off the market completely in some cases renting their units out until the market rebounds. One enduring aspect of buying a property in New York City is that – barring a pandemic – there is always strong demand for a good rental property. For those owners that have relocated or need to sell right now for other reasons, their only alternative is to wait this cycle out…or accept some discount. How long will the market stay soft? Most likely, buyers will wait for an indication that these rate hikes are ending and inflation in normalizing; perhaps a small rate cut signaling that the top is in for this corrective cycle. A turnaround in the real estate market sentiment would probably not be too far behind that event. Purchasers always have the option to refinance their mortgage – accept a higher rate now to get that deal and refinance down the road. When rates begin to normalize as inflation comes under control, there will be more opportunities to lower your underlying mortgage payments.
CLICK HERE TO SEE MANHATTAN DISCOUNTS
Right now, the cancellation rate (those listings under contract which went back on the market) has risen to its highest level since the onset of the pandemic at 1.7% - a number that is typically under 1%. The sudden shock of higher rates forced many buyers to reconsider or cancel outright their plans to purchase as borrowing costs escalated beyond an acceptable level. With 700 monthly contracts signed and 7,000 units on the market as of the end of November, Manhattan is currently running at a 10-month supply. The rule of thumb is anything over a 6-month supply is a buyer's market. Anything under a 6-month supply is a seller's market. The Market Pulse chart shown here is a good indicator of who's in control of the market, the buyers or the sellers. A reading of under .4 reflects a buyer's market: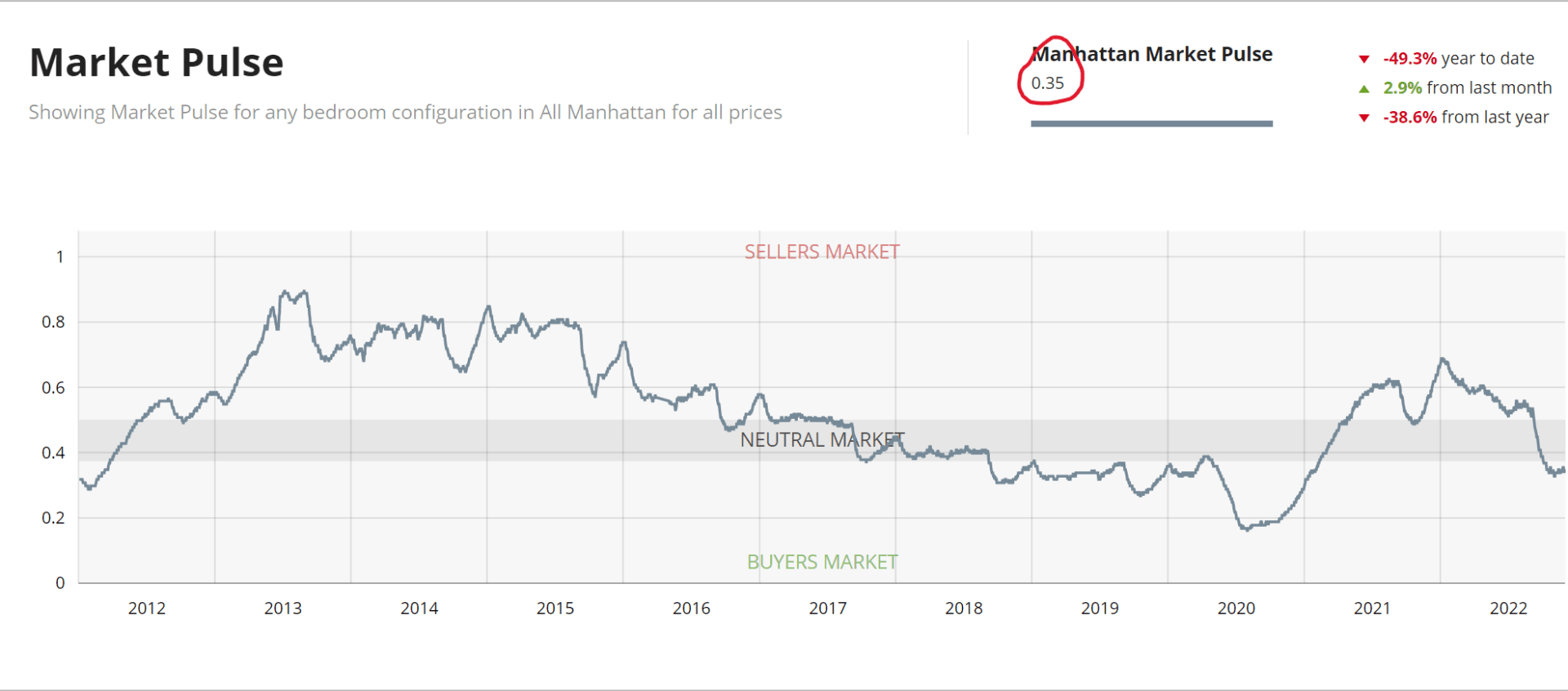 Recent sales data point to a sharp slowdown in activity with the third quarter down almost 20% from 2021. Luxury apartment transactions – those priced at $4 million and more – fell 50%. Currently there is an oversupply of townhouses – more than 2 years in some areas. Significant price reductions are occurring with these properties. There have been some notable price reductions in the past 6 months. For example, a Brooklyn townhouse listed at $6.1 million in March 2022 recently sold at $5.1 million last month - a near 20% price cut. A Chelsea townhouse that was on the market for nearly 6 months also sold for 20% below asking (link).
CLICK HERE TO SEE MANHATTAN DISCOUNTS
Of course with a city as diverse as New York – there are over 50 distinct neighborhoods in Manhattan alone – there are wide variations in price reductions depending on the area and the unit type. This is where a good buyer's broker can prove their worth to a client. Being able to stay on top of fluctuating market while aligning with a purchaser's criteria to find and negotiate a deal that comes along once a in decade is the skill that makes for an outstanding broker.
Consider, too, the risk-adjusted return of buying in a down market. Besides the fact that a buyer does not have to compete with others and face the unpleasant prospect of a bidding war, the chances that your investment will produce above average capital gains are much greater. Here is a chart showing the peaks and valleys of Manhattan properties for the past 25 years: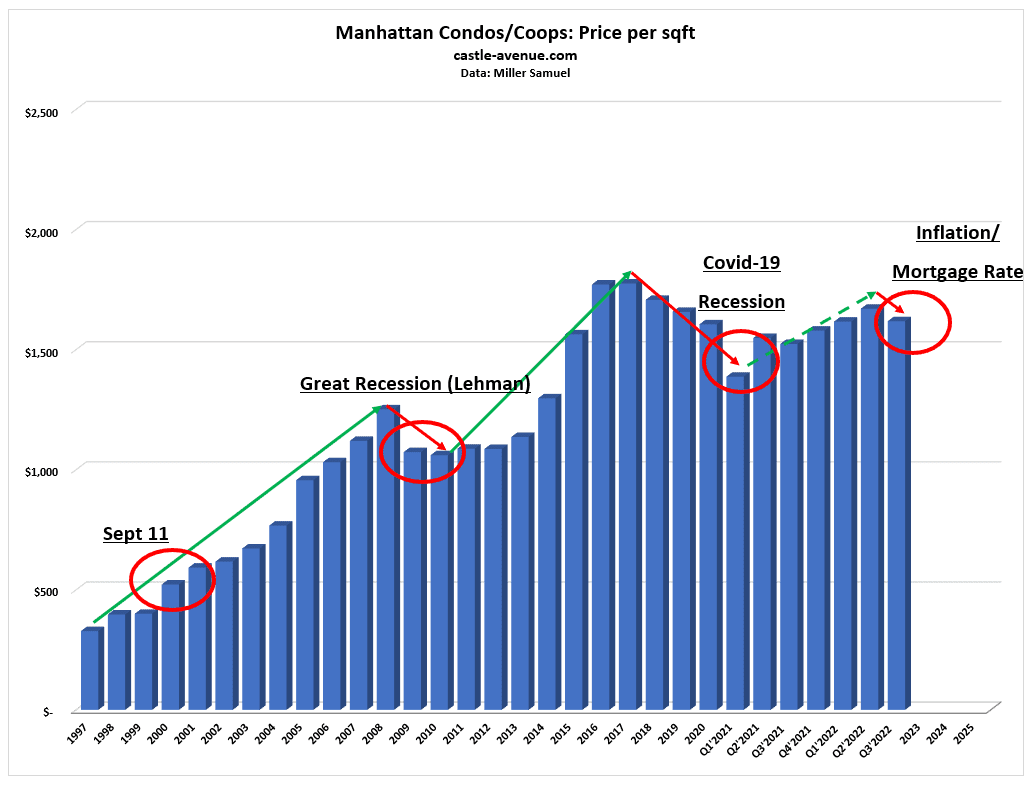 This is the 4th time in the past 25 years that buyers have an opportunity to purchase in a soft market where there is less risk of a bidding war and more opportunity to get that deal of a lifetime. If one is buying at a 10% discount, when that unit reverts to the long-term trend of 5% appreciation/year (for example) a purchase will experience an above-trendline return. If mortgage rates go down and the homeowner refinances, they can win on both fronts – lower monthly payments and excess equity they can take out from future price appreciation.
CLICK HERE TO SEE MANHATTAN DISCOUNTS
Interestingly, with the dramatic rise in borrowing costs this year people tend to think that property values fall when rates go higher. The reality is there is literally no correlation between interest rates and property prices. The accompanying chart illustrates this:
While we have no control over where interest rates are headed, we do have control over which property to buy and when to put an offer in. Inventory decreases during this time of the year as many potential sellers wait out the slow winter months and list their apartments in the spring when there is more buying activity. This decrease in inventory establishes a natural price floor so we should not expect prices to tumble, however, in a market such as the one we are in where discounts are more prevalent than just a few months ago there will be opportunities. A motivated seller that cannot take their property off the market and wait the cycle out might just be willing to strike that deal of a lifetime for the astute, patient buyer.
Key takeaways:
New York real estate has proven to be a fantastic long-term investment
The unprecedented move higher in interest rates has cooled the market considerably
There are some big discounts out there on certain property types
Buying when the market pulls back can create additional capital gains
Interest rates and property values have little correlation
This is the fourth opportunity in past 25 years to buy into a pullback
Be on the lookout for an email announcing our upcoming NYC Buyer's Webinar next Saturday.
Have a terrific weekend –
Robert