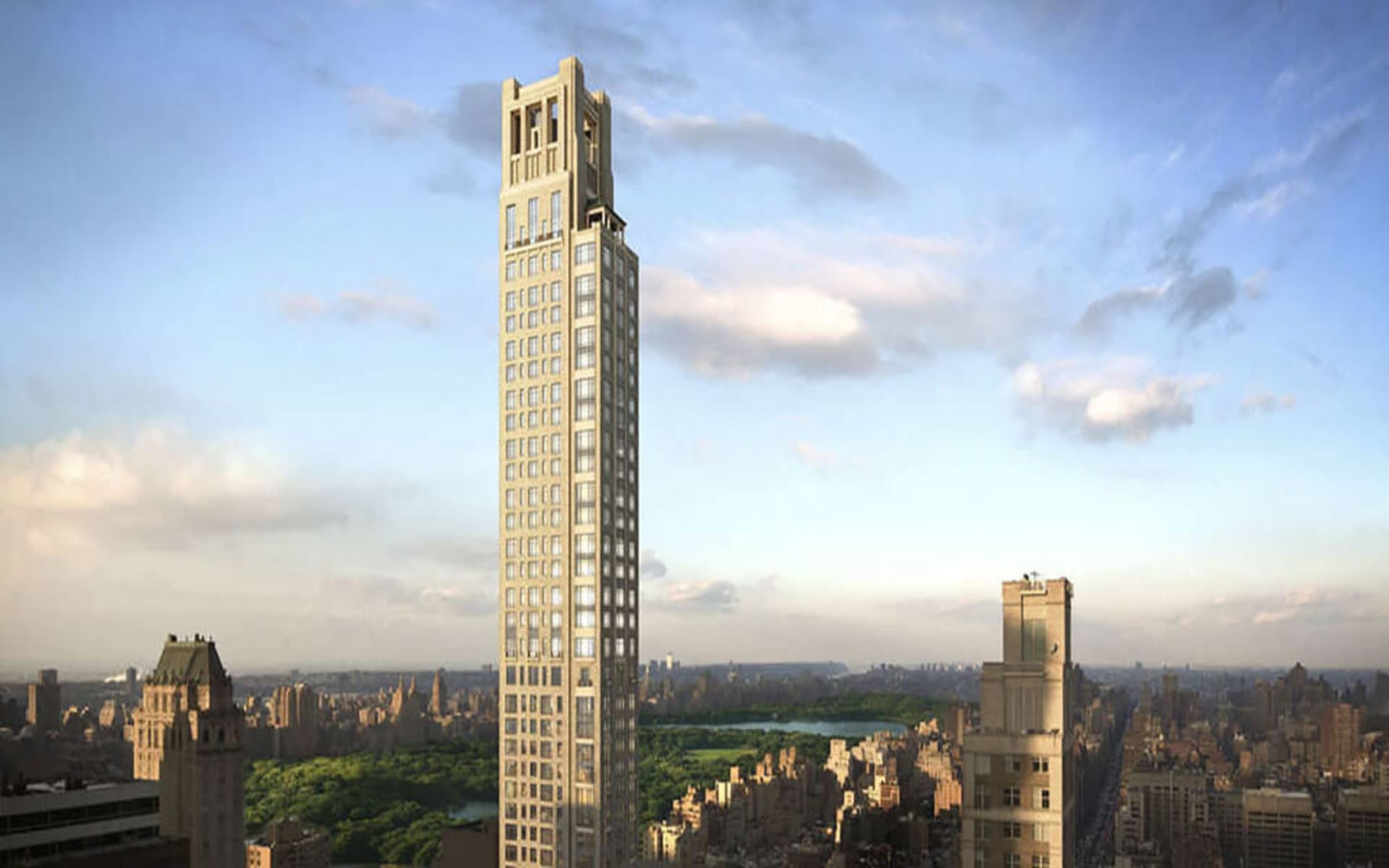 Background
For many years at 15 Central Park West, the stalwart of New York exceptionalism, the talk was of succession and what other new development could rival that of the double-barreled Robert A Stern Masterpiece holding Central Park West and the 1 percenters together alike on the southwest corner of Central Park.
The question was rhetorical, however, because the very clientele that was drawn to purchase and live in 15 CPW, were also the least likely to stay put year after year — opting instead for the great search, the yearning to spend more, live better, live larger and to do it all in New York! — plus think of all the fun there would be designing a new home, shopping, buying, furnishing a new version of themselves at a new stage, and all with the buzz and the hum of jackhammers and construction dust as a background.
Traveling across the globe was not practical. Traveling across town was improbable, and traveling farther from the park was unthinkable. Where could one possibly go next after living at 15CPW? It would have to be near the Park, not too far uptown, have phenomenal services and views, and be well regarded by friends and neighbors alike as the next "it" building. For a decade plus there were no other options on the horizon.
Arrival
Enter 220 CPS. Just 2 blocks to the south of 15 CPW, an improbable successor was beginning to take shape. Breaking ground near the corner of 59th and Broadway in 2015, 220 CPS already had a reputation as a scrapper, a fighter in true character with the tough city it was to call home. To come to market, the project's developers had to prevail in both a 7-year-old lawsuit from the acquisition site's tenants, while at the same time settling a lawsuit with the formidable developer of the adjacent parcel. The antagonist was none other than Gary Barnett of Extell development who is by all accounts the Godfather and author of Billionaire's Row- whose own ambitions were being altered by the bold moves 220 was making.
Having a great piece of property was not enough for Vornado, the developer. They needed a top architect. One who was well respected by the high-end buyers they would need and one who understood the tastes and desires of such clientele. As all great performers are thieves, so it turns out that developers are as well. 220 poached Robert A Stern himself for the design of the building. Stern was the architect of 15 CPW, the city's richest address and most successful condominium sell-out by price per square foot. The audacious move was well received as many of 15 CPW's residents would eventually migrate the 2 blocks south to see what new tricks Stern had up his sleeve, including the musician Sting, calling 220 CPS the next home in the terra firma bloodline of the Super Rich.
Big Numbers
So just how expensive is 220? Let's start with the biggest number first. $238,000,000. That's the price hedge fund mogul Ken Griffith paid for a 50th-floor unit in the limestone tower in 2019, setting the record for the most expensive home ever bought in US History. And that was just one of 2 homes that sold for over $100,000,000.
Of the tower's 116 units, 25 have sold for $50 Million or more. The average 3 bedroom will set you back a minimum of $14M and a decent 4 bed would have cost you $28 Million minimum.
So who besides Rockstars can afford to buy at these levels you ask? Why the Rockstars of Wall street, Private equity, entertainment, and Tech, of course? While most of the purchasers are shrouded behind LLCs and trusts, several owners are not shy about plunking down that kind of cash to be on top of the world.
Besides Ken Griffith's 1/4 Billion dollar purchase, there's Joe Tsai, executive vice chairman and second-largest shareholder of Chinese tech giant Alibaba, who paid $157 Million for two park-facing floors. Billionaire real estate investor Richard G. Leibovitch isn't even bothering to move in. He is flipping his 31st-floor condo for $36 million, $10 million more than he paid for it only a year ago.
Is this The Top?
Manhattan has been hitting its "Top" in real estate prices for decades now. The nature of capitalism is growth, and the scarcity of available prime real estate in New York City makes the Top a mirage that comes and goes along with Wall street's tops and bottoms. Nobody has to live in Manhattan. Nobody has to live next to Central Park. Nobody has to pay $600 for a vegetable dinner at One Madison Park either, but that does not stop the restaurant from being booked out months in advance.
I remember paying $700 a month for my first doorman studio apartment on the 5th and 32nd nearly twenty years ago and could have sworn if I had a bible that that very moment was precisely the top of the top for real estate prices in New York City. How wrong I was, and how wrong any of us would be to claim that the super luxury market has run its course.
New York is nothing if not aspirational. Having a home may be at its core a very fundamental need, but when you are dealing with property purchases in these figures there is something even more at play here. Relevance, acknowledgment, accomplishment. These properties are indeed trophies of accomplishment, success, and perseverance for many of the purchasers. For the lucky few who have attained that kind of success, there's no better place to enjoy it than in New York City.
Not surprisingly I recently asked a client who bought in 220 if he thought he would ever make money on his purchase. Without batting an eye, and to no one's surprise he answered "yes, of course".
To schedule a viewing of one of the remaining sponsor units or resale units at 220 CPS, please contact me directly at
[email protected]